Banz & Bowinkel
Giulia Bowinkel (geb. 1983 in Düsseldorf) und Friedemann Banz (geb. 1980 in Mainz), leben und arbeiten in Berlin
Friedemann Banz und Giulia Bowinkel erkunden den Grenzbereich zwischen realem und virtuellem Raum. Ihr Werk basiert auf der Vorstellung, dass die virtuelle Welt nicht das Reich der simulierten Realität ist, sondern ihr Gegenstück, in dem der Computer als unbewusste Kraft die Bedeutung unserer Gesellschaft einer neuen Ordnung unterwirft. Für Banz & Bowinkel leben wir bereits in einer semivirtuellen Umgebung, in der fast alles von Computern vorberechnet und ausgeführt wird. Das Künstlerduo benutzt den Computer konsequent als Werkzeug und als interaktive Schnittstelle, an der Kunstwerke entstehen und rezipiert werden können.
Knüpften Banz & Bowinkel mit ihren Bodypaintings (2016-2019) an die Tradition der gestischen Abstraktion und des Action Painting an, rekurrieren ihre Primitives (2018) auf die Skulptur der Minimal Art. Die Serie besteht aus verschiedenen geometrischen Körpern wie Kubus, Pyramide, Zylinder, Kegel oder Torus. Sie haben makellose glänzende Oberflächen und eine tiefe, manchmal geradezu fluoreszierende Farbigkeit: Dunkelrot, Lila, Tiefblau, Bienenwachsgelb. Präsentiert werden die Objekte in perfekter Ausleuchtung auf neutralem weißem Grund.
Die Künstler der Minimal Art bedienten sich industrieller Materalien und Fertigungsweisen. Heute gehen Banz & Bowinkel einen Schritt weiter und überlassen die komplette Herstellung sowie auch die Präsentation ihrer Skulpturen dem Computer. Das Ergebnis sind Bilder plastischer Körper von ebenso eindringlicher wie nicht fassbarer Präsenz. Denn aus welchem Material bestehen sie? Wie groß sind sie? Wie schwer sind sie? "What you see is what you see." Mit diesem Satz brachte Frank Stella 1958 sein minimalistisches Konzept von Kunst auf den Punkt. In Anbetracht der Kunst des digitalen Zeitalters bekommt dieses Statement eine ganz neue, radikale Bedeutung.
Studium
Giulia Bowinkel
2002-2008 Study at the Kunstakademie Düsseldorf
with Professor Gerhard Merz and Professor Albert Oehlen
Friedemann Banz
2001-2007 Study at the Kunstakademie Düsseldorf
with Professor Albert Oehlen
Ausstellungen (Auswahl)
2021 Interface – CONTEMPORARY NEW MEDIA AND DIGITAL ART, SPARK Art Fair Vienna
2021 LOOPS AND OTHER CIRCUMSTANCES, KÖNIG | ST. AGNES DECENTRALAND *
2021 Sight & Sound Festival, Eastern Bloc, Montreal
2021 Winds of Change, PRISKA PASQUER VIRTUAL GALLERY, Mozilla Hubs
2021 Supernatural – In the Same World, Oulu Museum, Finnland
2021 Resonant Realities, HAL, Haus am Lützowplatz, Berlin
2021 THE ARTIST IS ONLINE – DIGITAL PAINTINGS AND SCULPTURES IN A VIRTUAL WORLD, KÖNIG | ST. AGNES DECENTRALAND
2021 THE ARTIST IS ONLINE – PAINTING AND SCULPTURE IN THE POSTDIGITAL AGE, KÖNIG GALERIE | SALEROOM
2021 Abstract Art in The Age of New Media, MoCDA, Museum of Contemporary Digi tal Art
2020 New Waves, Kunst & Denker Contemporary, Düsseldorf
2020 Highlights der Sammlung 21. Jahrhundert, Kaiser Wilhelm Museum, Krefeld
2020 Sad Bot True, Kunst & Denker Contemporary, Düsseldorf
2020 Bukarest Artworlds at the Wrong Biennale, Rezidenta BRD Scena 9, Bukarest
2020 Pixelfest Digital Utopia, Yeltsin Center Yekaterinburg
2020 AV Experimental – Unpainted, ANALOG ROOM Dubai
2020 darktaxa-project, Schierke Seinecke Gallery, Frankfurt
2019 On Equal Terms I, PRISKA PASQUER, Cologne
2019 Palo Alto (VR), Roehrs & Boetsch Gallery, Zurich
2019 Jahresgaben 2019, Kunstverein Arnsberg
2019 Glowing Globe, Kortil Gallery, Rijeka
2019 V für Verantwortung, Kunstverein Wolfsburg
2019 Anders wohnen – Dystopie, Haus Esters, Museum Krefeld
2019 Research TECHNOLOGY/URBANITY, Europäisches Künstlerhaus Oberbayern
2019 Photon | Icon, Falko Alexander Gallery, Cologne
2019 Gestalten – ein Jahrhundert abstrakte Kunst im Westen, Kunsthaus NRW
2019 Cylinder and Bots, DAM Gallery, Berlin
2019 AR AVATAR, Digital Arts Lab, hub.berlin, Berlin
2019 Transfer Download, Spring / Break Art Show LA, Los Angeles
2019 IN MEDIAS RES, Kunstverein Arnsberg
2019 Cube – Virtual Natives – Sculpture, Roehrs & Boetsch Gallery, Zurich
2018 Projected.Capital, Roehrs & Boetsch Gallery, Zurich
2018 ENVISIONING THE FUTURE, Halcyon Arts Lab, Washington DC
2018 Artificial Paradise? Immersion in Raum & Zeit, KM – Halle für Kunst & Medien, Graz
2018 DC Open, Galerie Falko Alexander, Cologne
2018 DIE ZUKUNFT DER ZEICHNUNG: ALGORITHMUS, Museum Abteiberg Mönchengladbach
2018 Retune Festival, Silent Green Kulturquartier, Berlin
2018 Open Source Festival Congress, Düsseldorf
2018 Very Real, DAM Gallery, Berlin
2018 Disorder of Appearance, Kunst & Denker, Düsseldorf
2018 VRHAM Festival, Oberhafenquartier Hamburg
2018 Digital Sculpture, Museum Ulm
2017 BIOS, Roehrs & Boetsch Gallery, Zurich
2017 digital/real, dieMobiliar, Bern
2017 Schöne neue Welten, Zeppelin Museum Friedrichshafen
2017 Bodypaintings, Förderverein aktuelle Kunst, Münster
2017 When machines are dreaming, Technische Sammlungen Dresden
2017 The Wrong Club, Ampersand Gallery, Cologne
2017 Now on View, Roehrs & Boetsch Gallery, Zurich
2017 RESET III and VIRTUAL REALITY, PRISKA PASQUER, Cologne
2017 Digital Bodies, Eli and Edythe Broad Art Museum, Michigan
2017 Unreal, NRW-Forum, Düsseldorf
2017 Substance, DAM Gallery, Berlin
2017 Video- & Performance-Festival PLAY/III, Cologne/Düsseldorf
2017 Unpainted, Palazzo Pisani, Venice
2017 Baies vitrées, Villa Bernasconi, Geneve
2017 Evolutionary Urge, NAVEL, Los Angeles
2017 Benefiz-Auktion Kunst gegen Hunger, Langen Foundation, Neuss
2017 Video of the month, HMKV, Hartware MedienKunstVerein, Dortmund
2017 The Unframed World, HEK, House of Electronic Arts, Basel
2016 Rushing into water, filmstudio extended, BAMBI Filmstudio, Düsseldorf
2016 VR 01 – mercury, Parkhaus im Malkastenpark, Düsseldorf, Germany
2016 die digitale, digital art & music festival, Düsseldorf, Germany
2016 Bodypaint Edition, Handelsblatt | Kunst & Denker
2016 DAM:TEMPORARY, DAM Gallery, Berlin, Germany
2016 70. Internationale Bergische Kunstausstellung, Museum Solingen, Germany
2016 Virtual Body, NRW-Forum Düsseldorf, Germany
2016 Spring Exhibition, Kunsthal Charlottenborg, Copenhagen
2016 Unpainted – Lab 3.0, MMA, München
2015 Rundblick 2015, Koelnberg Kunstverein e.V., Cologne, Germany
2015 Crystallized Skins, Pavilion of The Wrong Biennale, WWW
2015 191°S, Weltkunstzimmer, Düsseldorf, Germany
2015 Window Display, Künstlerhaus Bethanien, Berlin, Germany
2015 WTi 2.0, Kunsthalle Düsseldorf, Germany
2015 ATHENS DIGITAL ARTS FESTIVAL 2015, Athens, Greek
2015 CGI, Baustelle Schaustelle, Essen, Germany
2015 .htaccess, Digital3mpire, Düsseldorf, Germany
2015 191°S, Salon des Amateurs, Düsseldorf, Germany
2014 Media Art Award, Skulpturenmuseum Glaskasten, Marl, Germany
2014 Kunstfilmtage, Ufa Cinema, Düsseldorf, Germany
2014 Offspacenight, Museum Osthaus, Hagen, Germany
2014 ArtBat Festival, Almaty, Kasachstan
2014 Video beyond tomorrow, Quadriennale | Filmwerkstatt, Düsseldorf, Germany
2014 On a move, Municipal Gallery, Herzliya, Israel
2014 Bühne, Kunsthalle, Düsseldorf, Germany
Auszeichnungen
2020 VR Kunstpreis, DKB & CAA, Berlin
2018 AURORA-School for Artist, Europäischer Fonds für regionale Kultur, Berlin
2017 Digital Sculpture Award, Institute of digital art, HfK+G Ulm
2015 Project funding, Kunststiftung NRW, Germany
2014 Painting Art Award, Baustelle | Schaustelle, Essen, Germany
2014 Artist Residency Herzliya, Herzliya, Israel
2011 Bronner Residency of Kunststiftung NRW, Tel Aviv, Israel
2010 Rölfs-Partner Award, KIT, Düsseldorf, Germany
2008 Tong Xian Art Center Residency, Beijing, China
Banz & Bowinkel
Giulia Bowinkel (born in Düsseldorf in 1983) and Friedemann Banz (born in Mainz in 1980) live and work in Berlin
Friedemann Banz and Giulia Bowinkel explore the blurred lines between real and virtual space. Their work is based on the notion that the virtual world is not the domain of simulated reality but rather its counterpart, in which computers – as an unconscious force – subject the meaning of our society to a new order. For Banz & Bowinkel, we already live in a semi-virtual environment in which almost everything is pre-calculated and carried out by computers. The artist duo uses computers resolutely as both tools and as an interactive interface where artworks can be created and presented.
While Banz & Bowinkel's Bodypaintings (2016-2019) series revisited the tradition of gestural abstraction and action painting, their Primitives (2018) refers to the sculptures of Minimal Art. The series consists of various geometric shapes such as cubes, pyramids, cylinders, cones or tori. They have immaculate, gleaming surfaces and a rich, at times almost fluorescent colouring: dark red, purple, deep blue, beeswax yellow. The objects are presented in perfect light on a neutral white background.
The artists of the Minimal Art movement used industrial materials and production methods. Today, Banz & Bowinkel go one step further and use a computer for the complete production process and for presenting their sculptures. This results in images of sculptural shapes with an intense, yet intangible presence. What material are they made from? How large are they? How heavy are they? "What you see is what you see": this is how Frank Stella summed up his minimalistic concept of art back in 1958. In the light of digital age art, the statement is given a radical new meaning.
Education
Giulia Bowinkel
2002-2008 Study at the Kunstakademie Düsseldorf
with Professor Gerhard Merz and Professor Albert Oehlen
Friedemann Banz
2001-2007 Study at the Kunstakademie Düsseldorf
with Professor Albert Oehlen
Selected Exhibitions
2021 Interface – CONTEMPORARY NEW MEDIA AND DIGITAL ART, SPARK Art Fair Vienna
2021 LOOPS AND OTHER CIRCUMSTANCES, KÖNIG | ST. AGNES DECENTRALAND *
2021 Sight & Sound Festival, Eastern Bloc, Montreal
2021 Winds of Change, PRISKA PASQUER VIRTUAL GALLERY, Mozilla Hubs
2021 Supernatural – In the Same World, Oulu Museum, Finnland
2021 Resonant Realities, HAL, Haus am Lützowplatz, Berlin
2021 THE ARTIST IS ONLINE – DIGITAL PAINTINGS AND SCULPTURES IN A VIRTUAL WORLD, KÖNIG | ST. AGNES DECENTRALAND
2021 THE ARTIST IS ONLINE – PAINTING AND SCULPTURE IN THE POSTDIGITAL AGE, KÖNIG GALERIE | SALEROOM
2021 Abstract Art in The Age of New Media, MoCDA, Museum of Contemporary Digi tal Art
2020 New Waves, Kunst & Denker Contemporary, Düsseldorf
2020 Highlights der Sammlung 21. Jahrhundert, Kaiser Wilhelm Museum, Krefeld
2020 Sad Bot True, Kunst & Denker Contemporary, Düsseldorf
2020 Bukarest Artworlds at the Wrong Biennale, Rezidenta BRD Scena 9, Bukarest
2020 Pixelfest Digital Utopia, Yeltsin Center Yekaterinburg
2020 AV Experimental – Unpainted, ANALOG ROOM Dubai
2020 darktaxa-project, Schierke Seinecke Gallery, Frankfurt
2019 On Equal Terms I, PRISKA PASQUER, Cologne
2019 Palo Alto (VR), Roehrs & Boetsch Gallery, Zurich
2019 Jahresgaben 2019, Kunstverein Arnsberg
2019 Glowing Globe, Kortil Gallery, Rijeka
2019 V für Verantwortung, Kunstverein Wolfsburg
2019 Anders wohnen – Dystopie, Haus Esters, Museum Krefeld
2019 Research TECHNOLOGY/URBANITY, Europäisches Künstlerhaus Oberbayern
2019 Photon | Icon, Falko Alexander Gallery, Cologne
2019 Gestalten – ein Jahrhundert abstrakte Kunst im Westen, Kunsthaus NRW
2019 Cylinder and Bots, DAM Gallery, Berlin
2019 AR AVATAR, Digital Arts Lab, hub.berlin, Berlin
2019 Transfer Download, Spring / Break Art Show LA, Los Angeles
2019 IN MEDIAS RES, Kunstverein Arnsberg
2019 Cube – Virtual Natives – Sculpture, Roehrs & Boetsch Gallery, Zurich
2018 Projected.Capital, Roehrs & Boetsch Gallery, Zurich
2018 ENVISIONING THE FUTURE, Halcyon Arts Lab, Washington DC
2018 Artificial Paradise? Immersion in Raum & Zeit, KM – Halle für Kunst & Medien, Graz
2018 DC Open, Galerie Falko Alexander, Cologne
2018 DIE ZUKUNFT DER ZEICHNUNG: ALGORITHMUS, Museum Abteiberg Mönchengladbach
2018 Retune Festival, Silent Green Kulturquartier, Berlin
2018 Open Source Festival Congress, Düsseldorf
2018 Very Real, DAM Gallery, Berlin
2018 Disorder of Appearance, Kunst & Denker, Düsseldorf
2018 VRHAM Festival, Oberhafenquartier Hamburg
2018 Digital Sculpture, Museum Ulm
2017 BIOS, Roehrs & Boetsch Gallery, Zurich
2017 digital/real, dieMobiliar, Bern
2017 Schöne neue Welten, Zeppelin Museum Friedrichshafen
2017 Bodypaintings, Förderverein aktuelle Kunst, Münster
2017 When machines are dreaming, Technische Sammlungen Dresden
2017 The Wrong Club, Ampersand Gallery, Cologne
2017 Now on View, Roehrs & Boetsch Gallery, Zurich
2017 RESET III and VIRTUAL REALITY, Priska Pasquer Gallery, Cologne
2017 Digital Bodies, Eli and Edythe Broad Art Museum, Michigan
2017 Unreal, NRW-Forum, Düsseldorf
2017 Substance, DAM Gallery, Berlin
2017 Video- & Performance-Festival PLAY/III, Cologne/Düsseldorf
2017 Unpainted, Palazzo Pisani, Venice
2017 Baies vitrées, Villa Bernasconi, Geneve
2017 Evolutionary Urge, NAVEL, Los Angeles
2017 Benefiz-Auktion Kunst gegen Hunger, Langen Foundation, Neuss
2017 Video of the month, HMKV, Hartware MedienKunstVerein, Dortmund
2017 The Unframed World, HEK, House of Electronic Arts, Basel
2016 Rushing into water, filmstudio extended, BAMBI Filmstudio, Düsseldorf
2016 VR 01 – mercury, Parkhaus im Malkastenpark, Düsseldorf, Germany
2016 die digitale, digital art & music festival, Düsseldorf, Germany
2016 Bodypaint Edition, Handelsblatt | Kunst & Denker
2016 DAM:TEMPORARY, DAM Gallery, Berlin, Germany
2016 70. Internationale Bergische Kunstausstellung, Museum Solingen, Germany
2016 Virtual Body, NRW-Forum Düsseldorf, Germany
2016 Spring Exhibition, Kunsthal Charlottenborg, Copenhagen
2016 Unpainted – Lab 3.0, MMA, München
2015 Rundblick 2015, Koelnberg Kunstverein e.V., Cologne, Germany
2015 Crystallized Skins, Pavilion of The Wrong Biennale, WWW
2015 191°S, Weltkunstzimmer, Düsseldorf, Germany
2015 Window Display, Künstlerhaus Bethanien, Berlin, Germany
2015 WTi 2.0, Kunsthalle Düsseldorf, Germany
2015 ATHENS DIGITAL ARTS FESTIVAL 2015, Athens, Greek
2015 CGI, Baustelle Schaustelle, Essen, Germany
2015 .htaccess, Digital3mpire, Düsseldorf, Germany
2015 191°S, Salon des Amateurs, Düsseldorf, Germany
2014 Media Art Award, Skulpturenmuseum Glaskasten, Marl, Germany
2014 Kunstfilmtage, Ufa Cinema, Düsseldorf, Germany
2014 Offspacenight, Museum Osthaus, Hagen, Germany
2014 ArtBat Festival, Almaty, Kasachstan
2014 Video beyond tomorrow, Quadriennale | Filmwerkstatt, Düsseldorf, Germany
2014 On a move, Municipal Gallery, Herzliya, Israel
2014 Bühne, Kunsthalle, Düsseldorf, Germany
Awards
2020 VR Kunstpreis, DKB & CAA, Berlin
2018 AURORA-School for Artist, Europäischer Fonds für regionale Kultur, Berlin
2017 Digital Sculpture Award, Institute of digital art, HfK+G Ulm
2015 Project funding, Kunststiftung NRW, Germany
2014 Painting Art Award, Baustelle | Schaustelle, Essen, Germany
2014 Artist Residency Herzliya, Herzliya, Israel
2011 Bronner Residency of Kunststiftung NRW, Tel Aviv, Israel
2010 Rölfs-Partner Award, KIT, Düsseldorf, Germany
2008 Tong Xian Art Center Residency, Beijing, China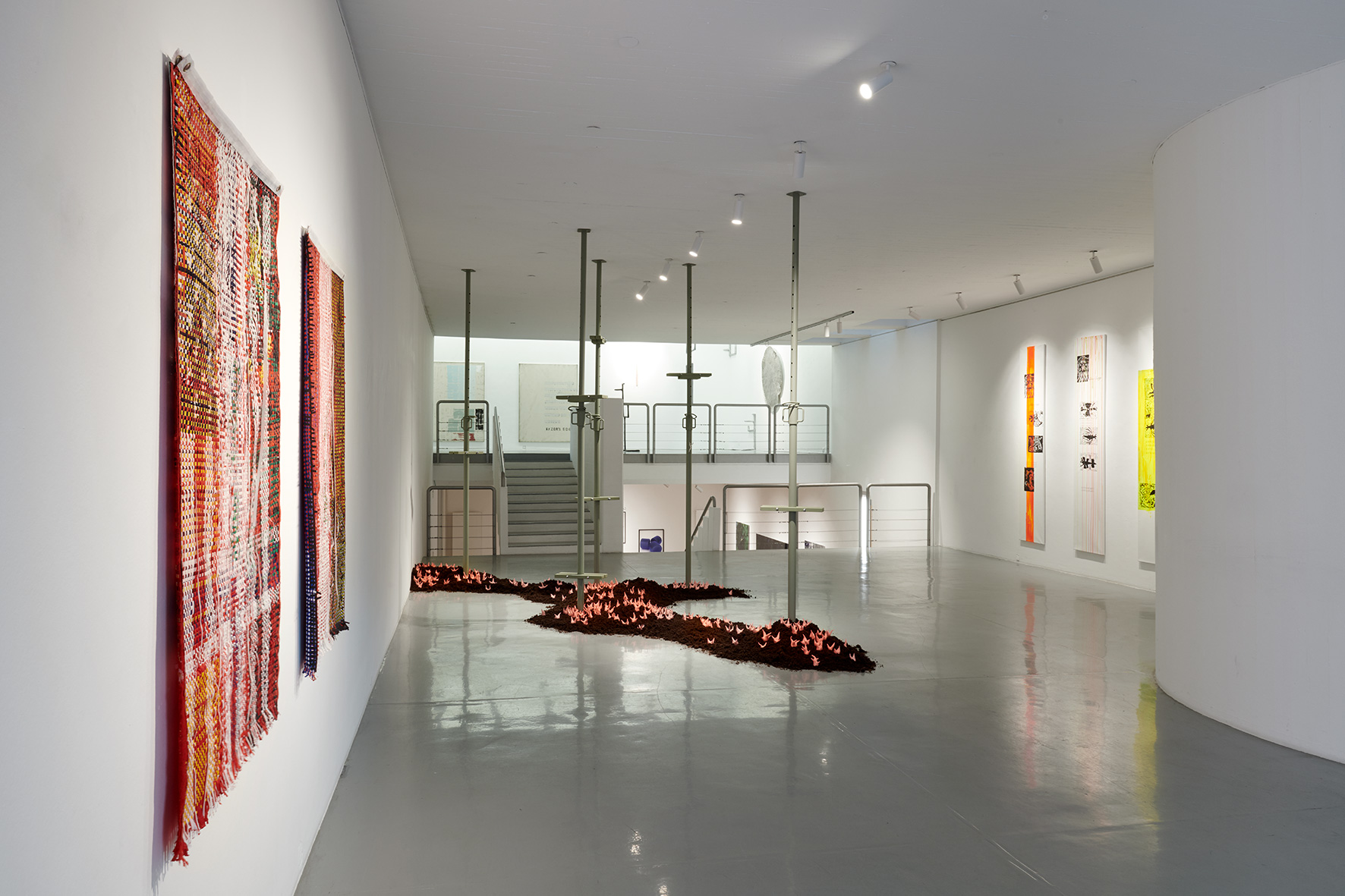 Nov 29, 2019 – Jan 31, 2020