Fabian Herkenhoener
Geb. 1984 in Troisdorf, lebt und arbeitet in Köln
Fabian Herkenhoener malt Text-Bilder. Auf seinen Leinwänden stehen manchmal ganze Gedichte, manchmal auch nur einzelne Worte. Als kompakte Blöcke oder kleine Gruppen strukturieren die Buchstaben die Fläche. Nicht immer behalten sie im Bild das letzte Wort. Manche Buchstaben werden vom Künstler auch wieder übermalt. Genauer gesagt: übersprüht, denn Herkenhoener malt seine Werke mit der Sprühdose. Diese Technik entspricht seiner schnellen, unmittelbaren und direkten Arbeitsweise, die den raschen Duktus des Zeichenstifts auf die Bearbeitung großer Formate im Raum überträgt.
In diesem spontanen Prozess entsteht eine zufällige Sprache, die jede rationale oder semantische Hierarchie ablehnt, jedoch den Weg zu neuen Bedeutungshorizonten öffnet. Fabian Herkenhoener spricht in diesem Zusammenhang von "verarbeitendem Text". Er gesteht den Worten und Sätzen auf seinen Bildern eine Eigenständigkeit zu, die über die wortwörtliche Bedeutung hinausreicht. In seinen Gemälden untersucht er, wie der geeignete visuelle Kontext geschaffen werden kann, damit diese unlogischen Worte in ihrem emotionalen und spirituellen Potenzial voll erfahren werden können.
"Ich möchte meine Schriften im Verborgenen halten, hinter den Gemälden, ich biete nur ein sich entwickelndes, fragmentiertes und kryptisches visuelles Narrativ an. Ich habe mich immer mehr für das Gebrochene interessiert, das Rohe, das Unvollendete und das Mythische und Rätselhafte," kommentiert Fabian Herkenhoener seine Text-Bilder.
Fabian Herkenhoener
Born in Troisdorf, Germany, in 1984; lives and works in Amsterdam
Fabian Herkenhoener paints text images. Sometimes his canvases contain entire poems, other times just individual words. The letters structure the space into compact blocks or small groups and do not always retain the last word in the picture. Some letters are also painted over again by the artist. Or, to be more specific, "sprayed over", as Herkenhoener uses spray cans to create his work. This technique ties in with his fast, direct approach to work, which transfers the rapid style of the drawing pencil to large-scale formats in a defined space.
This spontaneous process gives rise to a random language that rejects all notions of rational or semantic hierarchy, but paves the way for new horizons of meaning. Fabian Herkenhoener calls this "processed text". He accords the words and sentences in his pictures an autonomy that extends beyond their literal meaning. In his paintings, he explores how the suitable visual context can be created so that these illogical words can be experienced in their full emotional and spiritual potential.
As the artist himself explains: "I want to keep my writing hidden behind the paintings; all I offer is a fragmented and cryptic visual narrative that continues to evolve. I have always been more interested in things that are broken – things that are raw and incomplete, mythical and mysterious."
Fabian Herkenhoener
Born 1984, Troisdorf, Germany
Lives and works in Amsterdam
Education
2006 – 2014 Academy of Fine Arts Düsseldorf (class of Tal R)
2014 Master Student of Tal R
Solo Exhibitions
2020 'Notes on a post-order of things',PRISKA PASQUER, Cologne
2018 'The Blast' with Henry Chapman, T293, Rome
2016 'HEIM JUST', T293, Rome
2016 'NEW POSITIONS', Art Cologne
2015 '–//FIELD//–', Fiebach Minniger, Cologne
2014 'Juggernaut Skies', Academy of Fine Arts, Düsseldorf
2014 'Labor 14', TZR, Düsseldorf (duo show with Hakan Eren)
2014 'Dogworks' Part 1, Cologne (duo show with Kilian Rüthermann)
2013 'Totale 7' Maschinenhaus Essen, Essen (duo show with Galina Dimitrova)
2012 'The Subliminal Kid', Jagla Ausstellungsraum, Cologne
Group Exhibitions
2019 'On Equal Terms I', PRISKA PASQUER, Cologne
2019 'Avanti – 10 Jahre Jagla Ausstellungsraum', Michael Horbach Foundation, Cologne
2019 'west of where the sun goes down', No Mans Art Gallery, Amsterdam
2019 'Futur 1', Jean-Claude Maier, Frankfurt a.M.
2019 'Bild & Schrift – Die Revolution in Hennef kann warten', Galerie Susanne Neuerburg, Hennef
2019 'Meta Darlings', No Mans Art Gallery, Amsterdam
2018 'Ouverture', T293 in residency at Aquapetra Parco d'Arte, Telese Term
2018 'Black mirror', MAM Contemporary, Salzburg and Vienna (forthcoming)
2018 'Pantaleonsmühlengasse', Cologne (duo show, upcoming)
2018 'Zwischenwelt', Berlin (upcoming)
2017 'Forgotten to Talk', W139, Amsterdam
2017 't twoninethree in-residence at Luciana Brito Galeria', San Paolo
2017 'Frammenti di paradiso', Le Scalze, Chiesa di San Giuseppe a Pontecorvo, Naples
2016 'tastin' Waters', Priska Pasquer, Cologne
2016 'Art Los Angeles Contemporary', Los Angeles
2016 'Ein Starker Ort', Atelier Claasen/Henin, Düsseldorf
2015 'LORDS CHOSEN: THE JESUVE', Hong Kong Derick Barge project space, Duisburg
2015 'You're Just Too Good To Be True', CFA Gallery, Berlin
2015 'Das Auge der Katze', Elektrohaus, Hamburg
2014 'Kick-Start', Kunsthal W139, Amsterdam
2014 '17 Abstract paintings, selected by Luisa Rittershaus and Alexander Warhus', Wertheim, Cologne
2013 'Missliche Lagen – Papierarbeitein', Jagla Ausstellungsraum, Cologne
2013 'Pleasures', Down at the Studio, Cologne
2012 'Lowdown (at the Studio #1)', Down at the Studio, Cologne
2012 'Hotel Niemann', Atelierhaus of the Bonner Kunstverein, Germany
2011 'Main Esel und Ich', class of Tal R, Kunstverein Pfaffenhofen, Germany
2011 'Yellow Galore', class of Tal R – goodbye blue Monday, New York
2011 'All You Can Bear', classes of Tal R and Daniel Richter, HFBK, Hamburg
2011 'Stand and Deliver', Sch.fer Grafisk Vaerksted, Copenhagen
2010 'und immer fehlt mir etwas, und das qu.lt mich', Kunstgruppe, Cologne
2010 'EMPIRE OF DUST', class of Tal R, NRW Representation, Brussels
2009 'Schere, Stein, Papier', Jagla Ausstellungsraum, Cologne
2009 'Das Zeitung', Open project space, Düsseldorf
Bibliography
Marchione Virginia, 'Heim Just', Inside Art, January 5, 2017
'Weekly Agenda: i migliori eventi della settimana', Artwort, December 17, 2016
'Fabian Herkenhoener: HEIM JUST', Mousse, Issue 56, December 2016 – January 2017
Barbara di Tanna, 'Scrittura e processo creativo. Fabian Herkenhoener a Roma', Artribune, January 25, 2017
Contu Claudia, 'Fabian Herkenhoener. Intervista di Claudia Contu', That's Contemporary, January 13, 2017
'Fabian Herkenhoener's 'Heim Just'', Blouin Artinfo, December 30, 2016
'Fabian Herkenhoener: HEIM JUST, T293', My Art Guides, December 15, 2016
Nov 29, 2019 – Jan 31, 2020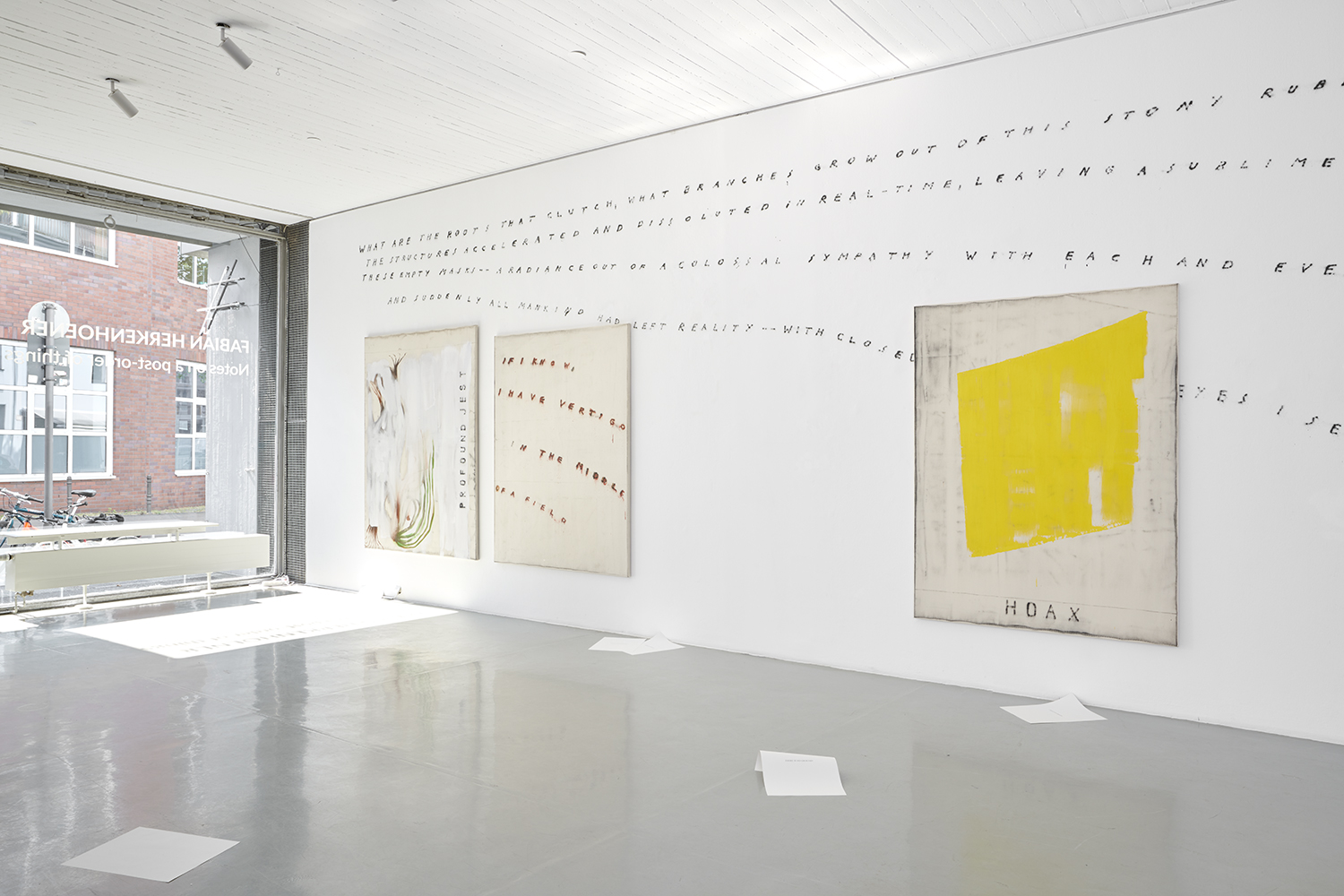 May 28, 2020 – June 27, 2020